Henry Kisor is the retired book editor of the Chicago Sun-Times as well as the author of three nonfiction books and five mystery novels. He is also the co-author of one children's book.
He writes a series of mystery novels set in the Upper Peninsula of Michigan: Season's Revenge (2003), A Venture into Murder (2005), Cache of Corpses (2007), Hang Fire (2013) and Tracking the Beast, to be published in December, 2015. A sixth novel, The Riddle of Billy Gibbs, is forthcoming in 2016.
His nonfiction works are What's That Pig Outdoors?: A Memoir of Deafness (1990 and 2010), Zephyr: Tracking a Dream Across America (1994 and 2012) and Flight of the Gin Fizz: Midlife at 4,500 Feet (1997 and 2012).
His books have been published abroad in German, Dutch and United Kingdom editions. Most are available online as ebooks, and some in paperback form.
He writes two blogs, The Reluctant Blogger and The Whodunit Photographer.
He was the book editor of the Chicago Daily News from 1973 to 1978, then of the Chicago Sun-Times from 1978 to his retirement in 2006.
His reviews and articles have appeared in the New York Times Book Review, the Los Angeles Times, the Washington Post and on MSNBC.com.
Between 1977 and 1982 he was an adjunct instructor at Northwestern University's Medill School of Journalism.
From 1983 to 1986 he wrote a weekly syndicated column on personal computers that appeared in the Chicago Sun-Times, Los Angeles Herald-Examiner, Orlando Sentinel, Seattle Times and other newspapers.
He was a finalist for the Pulitzer Prize for Criticism in 1981. The Friends of Literature awarded him the first James Friend Memorial Critic Award in 1988 and the Chicago Foundation for Literature Award for Nonfiction in 1991 for What's That Pig Outdoors? In 1991 Trinity College awarded him a honorary Doctor of Letters degree. In 2001 he was inducted into the Chicago Journalism Hall of Fame.
Educated at Trinity College (B.A., 1962) in Hartford, Conn., and at Northwestern University (M.S.J., 1964) in Evanston, Ill., Kisor began his newspaper career in 1964 with the old Evening Journal in Wilmington, Del.
He winters in Evanston, Illinois, and summers in Ontonagon, Michigan, with his wife, Deborah Abbott. They have two grown sons, Colin, an attorney with the U.S. Department of Justice and a commander in the Naval Reserve (m. Melody Pershyn), and Conan, a corporate communications editor and writer for the Boeing Company (m. Annie Tully).  They also have two grandsons, William Henry Kisor and Conan Emmet Kisor, and two granddaughters, Elizabeth Maria Kisor and Alice Flynn Kisor.
Best Books by Henry Kisor
What's That Pig Outdoors?: A Memoir of Deafness
The author, who has been deaf since the age of three, discusses how his disability has impacted every aspect of his life: his upbringing, his formal education, his career as a newspaper editor, his marriage, and his family.
Season's Revenge
Some major developments are brewing for Lakota Deputy Sheriff Steve Martinez in the weeks leading up to Christmas in Michigan's Upper Peninsula. After the body of Paul Passoja, a renowned local, is discovered at a forest campsite, the typically quiet town is unusually bustling as authorities investigate what appears to be a bear attack.Steve Martinez has a bad feeling about the crime scene from the moment he arrives. If Passoja was such an experienced camper and hunter, then he wouldn't be so irresponsible as to leave a trail of bacon grease leading up to his tent. Steve's curiosity drives him to launch an unofficial inquiry into the incident, where he finds evidence that the "random" animal assault may have been anything but. It appears that many individuals in town had a grudge against Paul Passoja, but the investigation has turned up no clear suspects.Steve is sinking deeper and deeper into a mystery that predates the town itself the more he looks into it.
A Cache of Corpses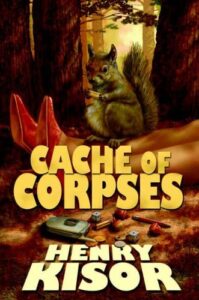 Located in Michigan's Upper Peninsula, orcupine City is a quiet community. The locals enjoy a calm existence far apart from the comings and goings of larger cities. The sort of place where friendly rumors go freely and everyone knows one another. It's hardly the type of setting you'd expect to find in a high-tech, high-thrill treasure hunt.
A decapitated body recovered in plastic wrap is the first disturbing evidence.
Although Deputy Steve Martinez (a Lakota Indian who grew up in Porcupine City) has investigated a wide variety of crimes, the one he is currently working on is by far the most unusual. When clues from the first crime site lead to the discovery of a second headless corpse, it becomes evident to Steve that it's someone's warped concept of a game. The election for county sheriff is coming up, and Steve's opponent would love nothing more than to use the recent spate of murders as a political weapon. Thankfully, Steve's longtime love, gorgeous redhead Ginny Fitzgerald, is still by his side. However, when Steve seeks a means to connect with her foster son, Tommy, tensions arise in their relationship.
From dark online forums to the unsavory neighborhoods of Chicago and finally to the skies above the Windy City, this is Steve's most challenging investigation to yet. Deputy Martinez will need all of his patience and ingenuity to apprehend a sociopath who is seeking the next illegal high. This could also lead him to discover some unflattering details about the locals he has promised to defend.
A Venture into Murder
Located in the bucolic Upper Peninsula of Michigan, Porcupine County is the type of small town where everyone knows everyone else and the latest rumors can't be suppressed for long. But there's one secret that Porcupine County has attempted to keep hidden for years . . . and those who try to unearth it sometimes finish up dead.
Deputy Steve Martinez–Lakota Indian by origin, white by association–fell in love with the community after running away from a secret of his own. Steve finally found happiness and solace in the homeland that had provided so much for his people after he found the love of his life. However, the peace is disrupted by the body of a mob hitman. Then, during a routine operation, one of Steve's workers accidentally unearths the body of a man who disappeared from Porcupine County more than a century ago. Although at first glance the two deaths appear to have no connection, Steve Martinez is not one to be deterred by such a minor detail.
As Steve continues to investigate, he runs into professional and personal issues that threaten to derail his life and the future of his relationship with the beautiful Ginny Fitzgerald, a wealthy widow with a number of secrets of her own.
Even if it means engaging in gun battles and risking his life on surveillance flights, Deputy Steve Martinez will do everything it takes to protect the people and the place he cares about.
Hang Fire
During an encampment of historical re-enactors, a pretty teacher is slain by a muzzle-loading ball, and Sheriff Steve Martinez is worried by her role-playing character as a frontier prostitute.
Murder can be motivated by sex. A verdict of accidental death has been reached. Also, using a muzzle-loader to kill someone is extremely laborious and time-consuming.
However, over the next few months, there are a shocking number of muzzle-loading deaths that appear to be completely unrelated. Something more sinister than a statistical outlier?
Steve's long-term relationship with his long-time love is rough, and he has to fight critics and a lack of forensic proof to find the solution.
He's close to his quarry in the woods when he realizes he's the next target.
Tracking the Beast
When the bodies of three young girls are discovered in train hopper cars that had been sitting for years on a siding deep within Sheriff Steve Martinez's beloved Porcupine County, he is faced with a difficult case. The FBI arrives after Steve and his team have done their digging, convinced that their Unsub is a sexual predator and killer. Steve, however, thinks the murderer or murderers paid someone to dispose of the bodies. Steve relentlessly pursues "the Beast," enlisting the support of various law enforcement officials (including the Ontario Provincial Police and Detroit mobsters) along the way. Set in the wilds of Upper Michigan, this sophisticated police procedural contains a thrilling high-tech chase across Lake Superior and the resurrection of a cunning World War II deceit.
The Riddle of Billy Gibbs
Sheriff Steve Martinez of Porcupine County, Michigan, is disheartened to learn that a black man's mangled body was discovered in Mackinac County, on the remote Upper Peninsula of Michigan, 275 miles away.
His jurisdiction is nearly entirely white, and its most recent rape victim was exonerated by an all-white jury. Steve had worried about the verdict having racial ramifications, and he believes that discrimination had a role in the murder of Billy Gibbs.
However, the identity of the victim remains unknown. How did a regular truck mechanic manage to amass such a fortune? What was he afraid about happening to his shiny new customized pickup truck?
Steve is severely understaffed, but he and his counterpart in Mackinac County, Sheriff Selena Novikovich, dig deep into the case to shed light on Gibbs and uncover his killer(s). They painstakingly follow the clues across five states with the support of their deputies, several state troopers, a retired FBI agent who must fend off a hostile CIA, and a military police colonel who is willing to put his career on the line for the comrade who saved his life in Iraq.
The police discover another body and a group of radical neo-Nazis, among whom is a stunning but ruthless lady whose sexual appetites rival those depicted in Fifty Shades of Grey.
The sixth book in Henry Kisor's Steve Martinez series, The Riddle of Billy Gibbs, offers a realistic look at a disturbing aspect of American culture.
Flight of the Gin Fizz: Midlife at 4,500 Feet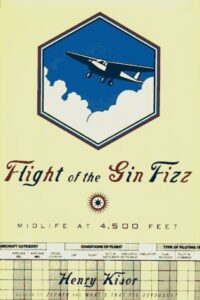 Henry Kisor had no idea what he was in for when a friend offered him to ride in his little plane one afternoon, but as the plane took off, the sensation of flying was like nothing he had ever experienced before. Kisor was 53 years old when he first looked at himself in the mirror and saw "a man who was short, fat, bald, bespectacled, and deaf." Learning to fly was the key to regaining his enthusiasm for life.Learning that radio communications are not necessary in much of America's airspace and that "visual flight rules" are the same for hearing and deaf pilots gives Kisor hope that his dream is within reach. He dives himself into his studies and plots out a fitting first flight: a recreation of the historic 1911 flight from New York to Los Angeles made by Cal Rodgers. Kisor's discovery that Rodgers had serious hearing loss adds a surprising human dimension to the business.A classic Cessna two-seater, it was 36 years old when Kisor fell in love with it and renamed it Ginn Fizz, after a popular soft drink of the time, in homage to Rodgers' Vin Fiz. He then makes arrangements for his journey and lets the reader sit in the pilot's seat as he flies across America in a manner reminiscent of the early aviators' daring. On his way from New York to Chicago to Texas to California, he lands sixty-five times. Flight of the Gin Fizz is both an external journey as Kisor slowly shakes off the midlife blues that had led him to the Cessna's left seat in the first place, and an internal journey as he introduces us to the men and women who make up the "brotherhood of aviation"—those who staff the airports, repair the planes, teach student pilots, ferry skydivers (and sometimes jump themselves), and perform aerobatic stunts. Kisor grows as a person and as an adventurer as he travels westward toward his goal, learning to master new skills, become increasingly independent, and test the bounds of his previous, more terrestrial existence. Whether you're a pilot, passenger, or armchair traveler, Kisor will take you on a journey of self-discovery, high adventure, and a renewed sense of hope for the future.
Traveling with Service Animals: By Air, Road, Rail, and Ship across North America
Access to and use of trained service animals has increased dramatically, which has made a huge difference for disabled people who need to travel. Tens of thousands of people in the United States and Canada now have access to travel opportunities that were prohibitive only a short time ago.The narrative handbook written by Henry Kisor and Christine Goodier is packed with useful information and seasoned with the authors' anecdotes about traveling with service dogs and miniature ponies. Authors provide insights gained as knowledgeable human travel companions to canine companions Trooper (Kisor's miniature schnauzer/poodle cross) and Raylene (Goodier's black Labrador), covering topics such as pet travel preparation, legal safeguards in different countries, and pet-friendly attractions at Disneyland. Appendices include checklists, primers on import rules and company policies, guidance for emergencies, and a route-by-route guide to finding relief walks on North American train rides; chapters address the details of air, rail, road, and cruise ship travel.Providing a comprehensive guide to traveling from one end of the earth to the other, Traveling with Service Animals is an indispensable resource for any human-animal team.